Even though Memorial Day is the official start to the grilling season, that's no reason to forget about the many flavors and colors of fruits and vegetables. Adding a lot of color to your dinner plate also provides a plethora of vitamins and minerals.
The bright red seeds of the pomegranate are a good case in point. They's high in vitamin C, vitamin K and folate. The seeds are high in fiber and micronutrients. Once considered an exotic fruit—hard to find and expensive—it's easily available now.
This fruit cannot be eaten like an apple; even though it is more likely that it was a pomegranate not an apple that tempted Eve in the Garden of Eden. You have to remove the inedible pulp and peel to get to the seeds. Score it with a knife and break the fruit open to remove the clumps of small glossy red seeds. Separating the seeds is easier in a bowl of water because the seeds sink and the inedible pulp floats.
Pomegranate seeds are sweet with a tang of acid. Most fruits are moderate in taste but pomegranate juice can be sweet or sour. The original grenadine syrup, used in mixed drinks, was a thickened and sweetened pomegranate juice; now it's mostly a sales name for any number of fruity syrups.
Here is a trio of colorful side dishes, all of which will add some color to that cookout.
Pomegranate Rice Salad
I like this best made with a wild rice blend as it lends a nutty wholesomeness to the salad.
1/2 cup sour cream
3/4 cup yogurt, plain
2 Tbsps. maple syrup or honey
2 cups cooked rice (any kind: white, brown, or wild)
1-1/2 cup cubed, cooked sweet potatoes
1 cup pomegranate seeds
1/2 cup blanched sliced almonds
2 cups mixed spring greens
In a bowl, combine the sour cream, yogurt, and maple syrup. Stir together until well blended. Add remaining ingredients.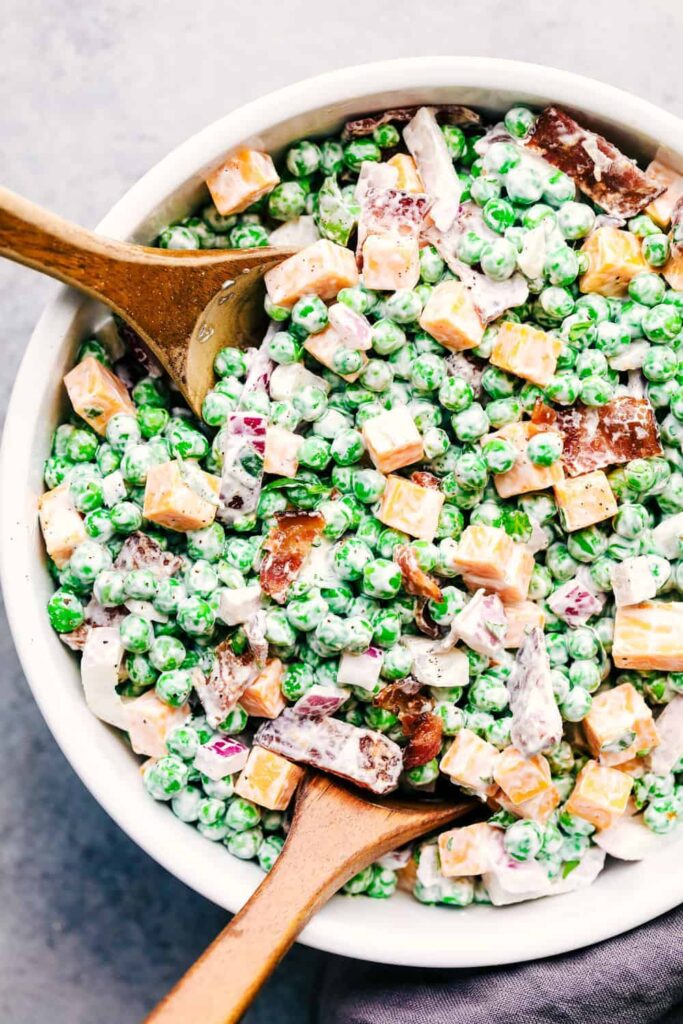 Garden Pea Salad
Fresh peas, lightly blanched are perfect, but thawed frozen peas are almost just as good.
Serves 6
16 ounce bag frozen peas, thawed
4 ounces Cheddar cheese, diced small
1/2 red pepper, diced small
1/4 cup diced small onion
1/2 cup diced, cooked bacon, optional
1/2 cup mayo or salad dressing
Combine all ingredients and refrigerate until well chilled.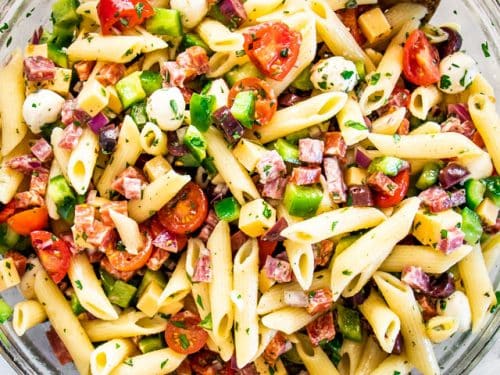 Italian pasta salad for a crowd
Makes 5 quarts
1 lb. raw penne pasta
1 can (6 oz. 0 sliced olives, drained
1 can (19-23 oz.) garbanzo beans, drained
4 oz. sliced thin pepperoni (optional)
1 pint cherry tomatoes, sliced in half
8 oz. broccoli florets
1 carrot, coarsely grated
1 red onion, cut in half and sliced thin
4 oz. fresh spinach, chopped
6 oz. Italian dressing
Cook the pasta according to the package to al dente. Immediately drain but do not rinse. Place in large bowl and add remaining ingredients. Toss well; refrigerate several hours before serving.